This project is made possible by a generous grant from:

FINDING VOICES IN THE SILENCE
Tracing the History of Boston's Black Community
at Forest Hills Cemetery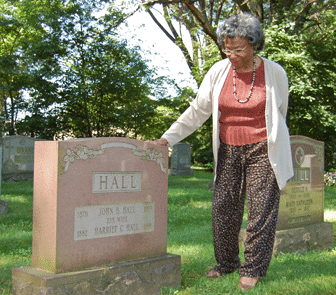 Sylvia McDowell next to Harriet Hall's memorial stone
photographed by Sandra Larson for the Bay State Banner
Sylvia McDowell started work on Finding Voices in the Silence in the spring of 2009. She compiled a list of 200 people of African and Caribbean descent who are buried at Forest Hills. Some are famous, recognized widely for their achievements. Others are less well known, but made important contributions to their community and families. They lived during the 19th, 20th and 21st centuries. All of their stories make our picture of Boston's history much richer. Some of these names came to us from family members or descendants who filled out nomination forms, and others from local historians. Most of the names came from Sylvia's wide network of friends and colleagues. Here is a small sample of Sylvia's findings; we will add more information as the project continues and evolves. We invite you to participate; help us "find the voices in the silence" by nominating your own suggestions people and stories to include in this project. Pass the word on to others who you think might be interested.
Dr. Cornelius Garland was a physician who opened Plymouth Hospital and Nurses Training School in 1908, a small bi-racial hospital which he hoped to expand into a larger facility which would serve the African American community. Medical facilities of the day, even the publically funded Boston City Hospital, refused to hire or train Black physicians and nurses. In 1928, Garland was forced to give up his controversial idea. Prominent civil rights leaders feared a separate hospital would cause "Jim Crow lines to be drawn about us" (William Monroe Trotter); instead they advocated focusing on desegrating the existing system. Although one year later the first Blacks were admitted to Boston City Hospital's nursing school and physician training programs, it wasn't until 1949 that the first black physician was apointed to the staff.
Born in Jamaica, Rubina Guscott (1900-2002) was hailed by The Boston Globe as "an influential force in Boston's black community...who spent a lifetime fighting for justice and equality for all races." Well into her 60s she went on NAACP trips to walk in marches in Washington DC; she was active in many clubs and church groups and a charter member of the Planned Parenthood League of Massachusetts. Along wth some other women, she founded Boston Progressive Credit; members pooled financial resources to manage larger purchases and survive tough times.
Malik Abdal Kallaq founded the family-owned Roxbury business, A Nubian Notion, Inc. This store offers imported and domestic African, Afro-centric, and Caribbean products in order "to provide the Roxbury community with knowledge, self awareness, and cultural identity."
John J. Smith, a local business leader whose barbershop became the meeting place for black and white abolitionists – the activists who were working together before the Civil War to end slavery. Smith was a member of the Vigilance Committee, organized to fight The Fugitive Slave Act. This 1850 law threatened Boston's free African Americans and escaped slaves alike with a forced return to a life of bondage in the South; in 1851 Smith, along with Lewis Hayden and a band of other African Americans, rescued one such individual – a captured slave named Shadrach Minkins – from federal mashalls in Boston before he could be transported back to Virginia. Smith went on to serve two terms in the State Legislature.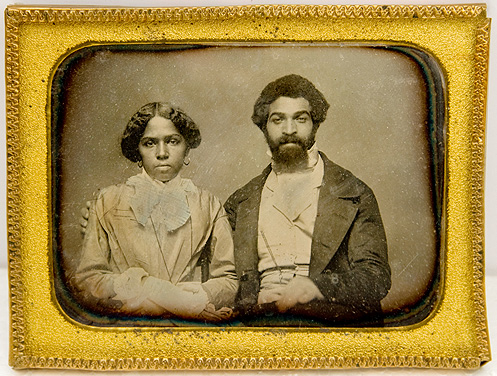 Daniel Thomas escaped slavery on a Norfolk, VA plantation in 1812 and made his way to Nova Scotia where he lived with Native Americans and other fugitive African Americans. The details of his life are not yet known, but his son Cornelius settled in Boston in 1850, where he operated a newspaper delivery service; Daniel joined him at some point and then died in Boston in 1856 and was buried at Forest Hills not far from famed abolitionist William Lloyd Garrison. Cornelius is buried at Oak Grove Cemetery, but his wife Nancy Smith Thomas and their infant daughter are also buried at Forest Hills. Nancy worked as a domestic servant and is pictured here with her husband Cornelius. We thank their descendant, Raymond Reddick, for sharing this story with us. Raymond's own mother, Geraldine Johnston Rubio Reddick, was buried at Forest Hills in 2006. Educated in the Boston Public Schools, an athelete and sports fan, Gerry made a career as a seamstress, working for Boston companies fabricating car upholstry and home furnishings until retirement.
Butler Roland Wilson and Mary Evans Wilson, the dynamic husband and wife who did so much to fight discrimination in education and employment in Boston. Butler was a lawyer and one of the founders of the Boston Chapter of the NAACP. Mary organized the Women's Service Club during WWI to aid black men in uniform; she used the Club's knitting circles to organize a membership drive that recruited 2,500 new black members to the Boston NAACP.
Is there someone you would like to add to the Finding Voices in the Silence project? Please use our on-line Nomination Form.