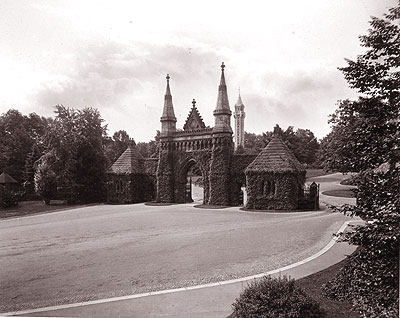 Introduction and Main Entrance
Welcome to Forest Hills Cemetery, Boston's beautiful rural cemetery, founded in 1848. Forest Hills is an extraordinary park, landscape, museum, and burial ground all in one. As a "Victorian" cemetery, or one founded during the Victorian era, between about 1830 and 1900, Forest Hills Cemetery is also a fortunate surviving repository of the love for marble monuments. Here, in the picturesque park-like landscape that is the cemetery, you will see mourning parents, successful businessmen, and virtuous wives—all buried here in the steadfast belief they would be reunited in the afterlife. The family cemetery lot was merely the final earthly home for the physical remains of the departed—the heavenly home awaited.
Forest Hills is blessed with one of the country's most extensive collections of 19th century sepulchral sculpture. This virtual tour will lead you to some of the Cemetery's most striking funerary monuments, many for people who are unknown today. As a nineteenth century visitor, you would have known what many of the monuments said about the people buried at Forest Hills. This tour will help you "decode" the Victorian monuments you are about to visit. Along the way you will learn a lot about how Americans in 19th century Boston thought about and experienced life, society and culture. The stories are in the stones.
Forest Hills was founded as part of what is known as the "rural cemetery movement." Starting with Mount Auburn Cemetery (Watertown and Cambridge) in 1831, cemeteries sited in beautiful landscapes outside the city not only solved the public health problem of overcrowded urban burial grounds, but allowed for the flowering of a romantic visualscape of marble gravestones and funerary sculpture that we associate with the Victorian era. Rural cemeteries were designed to be beautiful, natural landscapes incorporating wooded areas, winding paths, valleys and ponds that provided a variety of areas to soften and even enhance the melancholy experience of visiting the cemetery.
In 1848, Henry A.S. Dearborn, mayor of Roxbury (which would be annexed to Boston in 1868), who had also been one of the founders of Mount Auburn Cemetery and its main landscape designer, saw the need for another great cemetery. He thus founded Forest Hills, designing this cemetery on a much grander scale than Mount Auburn. Founded as a municipal cemetery, Forest Hills was also inclusive. As a result, a wide swath of Boston 19th century social classes and ethnic groups is represented at Forest Hills, from shoemakers and wealthy industrialists to artists and intellectuals, along with their spouses, children, and sometimes—well, at least in stone—their pets.
Your first stop is the General William Sumner Monument.