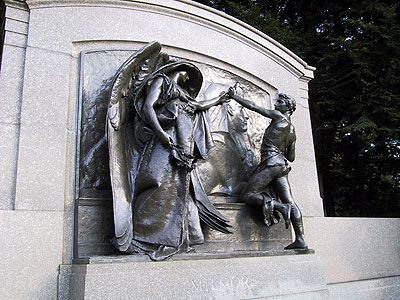 Milmore Memorial
The Milmore Memorial celebrates the lives of sculptor Martin Milmore (1844-1883) and his brother Joseph (1841-1886), a talented stonecutter who taught the art of carving to Martin. Martin and his family were Irish immigrants who settled in Boston in 1851. As a youth, Martin Milmore revealed himself as unusually artistically talented, and apprenticed himself to sculptor Thomas Ball. Martin's first great success came in 1867 when he was chosen to create the Roxbury Soldier's Monument at Forest Hills Cemetery. That piece was followed by his Soldiers' and Sailors' Monument, erected on Boston Common in 1877. These two memorials were widely imitated.
Martin Milmore died tragically young, at the height of his career, at the age of 39 from cirrhosis of the liver. His brother Joseph died just a few years later. Following Martin and Joseph's deaths, the Milmore family chose Concord's Daniel Chester French to execute a memorial.
Daniel Chester French was a perfect choice: he had been a friend of Martin's, and had also trained with Thomas Ball. He became famous in his own right as the creator of the Lincoln Memorial in Washington, as well as numerous other works including Concord's famous Minuteman. The Milmore Memorial, also known as Death Staying the Hand of the Sculptor, is one of his greatest works. The beautiful allegorical figure of the Angel of Death gently lays her hand on Martin's (or Joseph's) hand, as a reminder that she has come to usher him away. In her other hand Death carries a bouquet of poppies, which holds the promise of (eternal) sleep. The sculptor, wearing his work apron and holding his tools, is surprised and seems unwilling to be interrupted. As we know, Martin and Joseph did go. But the sculpture they are shown working on was actually completed years before their deaths. The massive (in real life) granite Sphinx carved by Martin and Joseph Milmore as a Civil War memorial sits at Mount Auburn Cemetery, where it was installed in 1872. So in this unique and beautiful memorial at Forest Hills Cemetery, we also see a connection to the Boston area's other great Victorian cemetery.
We hope you have enjoyed your tour. Please come back and visit us again!