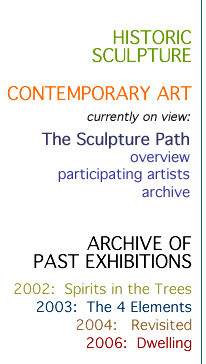 Ruth Gembicki Bragg
Madeleine Lord
Seers
1995
Acton, MA
Cut Steel
Artists' Statement
I pick up a piece of chalk and look at a piece of steel or a piece of paper, or a canvas. And I draw what I don't see. I wish it were more complicated than that. I wish it were easier.


-- Ruth Gembicki Bragg
One day at the metal yard, I found a long scrap of rusty steel. Ruth was working with me then, and I said: Why don't you draw faces! I cut them out after our usual discussion; what stays and what disappears, do we want eyeballs, how about hair, where is the chin/ A while later we had the opportunity to propose a large work for a forest. I thought we should make more faces, rows and rows of them. Kind, watchful, and inexplicable. So we did, and called them Seers.


-- Madeleine Lord