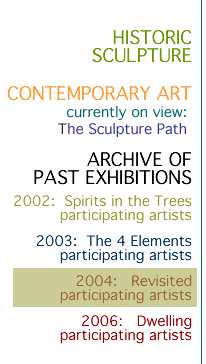 ReVisited


Thomas Matsuda
Enso and the Cosmic Dance
2004

Gathered sticks, fire, water, and flowers

Artist's Statement
In Zen painting, Enso is a circle drawn with sumi ink and brush on rice paper, representing our perfection amidst our incompleteness. In the landscape of Forest Hills, I have "drawn" an Enso with branches on the banks of Lake Hibiscus. Halfway through the summer, I will light the circle of wood on fire and then extinguish it with water from the Lake, transforming the Enso of fire into an Enso of water/steam and air/smoke. After this burning performance, the Enso will be composed of the charred remains.
I have invited the Triveni Ensemble to participate in the burning. They will perform Shiva's Cosmic Dance, which begins with destruction as Shiva eliminates Evil from the three worlds, and ends with a demonstration of the nine human emotions: love, compassion, valor, amazement, humor, fear, disgust, anger and peace.
I first brought this piece to Forest Hills last year for The 4 Elements exhibition. This year I will plant marigolds grown in the Forest Hills greenhouses in the ashes of Enso after the burning. Blooming in the charred wood and blackened earth, they remind us of life, death, transformation, and rebirth. Enso is also about the burning away of illusions and desires – a reference to the fierce deities of Tibetan Buddhism that represent cutting through or overcoming our desires. I hope it serves as a reminder of war, destruction of the earth, and corruption within ourselves, while offering a meditation on the close relationship between purification, destruction and rebirth.
Thomas Matuda's sculpture Purification was exhibited in 2002 as part of Spirits in the Trees.
Enso
2003
Purification
2001


Return to List of Particpating Artists