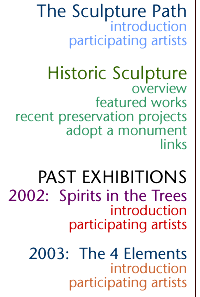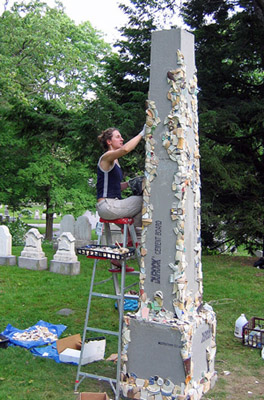 ReVisited: Contemporary art in a grand Victorian landscape
June 26 through October 31, 2004
Opening Reception: June 26 from 3 to 6 pm. featuring a free performance of Javanese music by the Boston Village Gamelan
Founded in 1848, Forest Hills is one of the nation's most splendid garden cemeteries. A tranquil green sanctuary of impressive charm and beauty, this evocative environment inspires artistic meditation on large themes: memory, identity, history, nature, human mortality and the life of the spirit. ReVisited was conceived to offer artists an opportunity to return to this rich and complex site and create new work; over 90 artists who had participated in the Trust's past exhibitions were invited to develop proposals. Fourteen artists were selected by our exhibition jury to create new work exploring the history, terrain and spiritual qualities of this majestic landscape.
The jury consisted of Cheryl Brutvan (Beal Curator of Contemporary Art, Musuem of Fine Arts/Boston), Lynda Hartigan (Chief Curator, Peabody Essex Museum), Susan Stoops (Curator of Contemporary Art, Worcester Museum), and Carol Warner (Corporate Curator, Fidelity Investments). These accomplished curators selected artists working in diverse styles and a range of media, including natural materials such as branches and pine needles, stainless steel mesh, cement, wood inscribed with poetry, and bronze.
A List of Participating Artists is available on this site, together with information about their earlier work at Forest Hills.
Things Worth Remembering
The public was invited to contribute materials for one of the pieces, an 11' obelisk fabricated by artist Danielle Krcmar. Krcmar covered this traditional memorial symbol with a mosaic composed of shards of pottery and personal mementos. For this piece, Krcmar invited the community to donate memorabilia - buttons, belt buckles, keys, beads, solo earrings and other jewelry, marbles, old coins (especially foreign coins) as well as china fragments. More information about Things Worth Remembering.
Special events
Saturday June 26, 2004: Opening Reception, featuring a free performance of traditional Javanese music by Boston Village Gamelan and a guided tour with participating artists. Free.
Sunday July 25, 2004: Enso – a circle of gathered wood created by artist Thomas Matsuda – will be transformed during a burning ritual inspired by Buddhist ideas of purification through destruction. This event features a performance of Indian dance by the Triveni Ensemble. Free.
Sunday July 18 and Sunday August 15 at 5:30: Twilight walking tours with participating artists. Free.