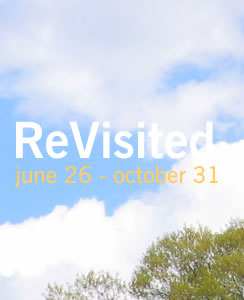 Things Worth Remembering
For the Revisited exhibition at Forest Hills, artist Danielle Krcmar made an 11-foot tall obelisk with the surface of a memory jug. She writes:
"Memory jugs usually consisted of a ceramic vessel with various items embedded in putty covering the surface. They were popular during the Victorian era and there are some theories that they were originally made by slaves and often used as grave markers. For the surface of the Memory Obelisk I am collecting china pieces and other fragments from Carson Beach in Dorchester. I also invite members of the community to donate their own memorabilia – buttons, belt buckles, keys, beads, solo earrings and other jewelry, marbles, old coins, china fragments etc.These will be attached to the obelisk's surface, integrating the evidence of lives past and present."
Objects were collected in a box by the Map Stand at the Main Entrance to the Cemetery. We invited people to donate objects that expressed their personal history. Children donated toys, legos. marbles, and favorite dolls. Adults donated pieces of jewelry, figurines, and other mementos. One person donated his father's military dog tag. We thank all the people who contributed personal items; their participation brought diversity and meaning to this sculpture.
We anticipate that the Things Worth Remembering will be on exhibition for several years.