Forest Hills Cemetery has just won a coveted spot on the National Register of Historic Places. The public is invited to celebrate the nomination in a gala weekend of festive events, including an afternoon of treasure hunts and special tours designed to invite visitors to discover and explore this remarkable place.
On Sunday afternoon , June 26, from 2 to 5 pm, visitors will receive a map with clues. This Treasure Hunt will lead them to antique bicycles, a vintage fire truck, ukulele players, Tip the dog, contemporary sculpture, a 20' floral tribute, and strolling Victorians. The floral tribute is an installation made with orchids and gathered wood by artist St. Suzan Baltozer for the monument to Henry Dearborn, founder of Forest Hills and the first president of the Massachusetts Historical Society.
Live music will be provided by Quintessential Brass, playing ragtime and Victorian-era tunes. Ukulele crooners Davis Sweet, Craig Robertson and Karen Langlie will perform vintage tunes of the 20s and 30s under the shade of an old oak tree.
Each stop along the Treasure Hunt celebrates someone buried here: the inventor of the fountain pen, the man who made bicycles popular in America, the firefighters of Boston, a music hall diva, and more. Those who complete the Treasure Hunt win a prize.
Visitors can also hop on a trolley and learn the fascinating stories of people buried at Forest Hills from expert guide Al Maze. Other guided tours for the day include: an interactive family tour with performance artist Barbara Michaels and a Tour de Graves bicycle tour at 5 pm (visitors should bring their own bikes). The bicycle tour will cover 2 miles of varied terrain.
Picnics are permitted at Forest Hills Cemetery in grassy areas. The public is welcome to arrive early with their own picnic and have lunch at Lake Hibiscus.
Admission to Forest Hills, the Treasure Hunt and music performances is free. Trolley rides are $8 for adults/$4 for children under 12.
All events are cancelled in the event of heavy rain and rescheduled to October 2, 2005, with the exception of the floral tribute by St. Suzan Baltozer. This will be installed rain or shine; in the event of heavy rain on Sunday, we will gather on Tuesday evening to meet the artist and salute our founder.
Presented by the nonprofit Forest Hills Educational Trust.
On Saturday night, June 25, join us for a slide show, concert, champagne toast, and flashlight tour. More information.
PHOTOS (right and below) AVAILABLE AT HIGH RESOLUTION VIA EMAIL. PLEASE SEND REQUEST WITH THE TITLE TO: cmiller@foresthillstrust.org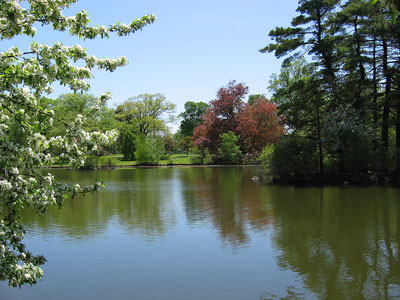 Forest Hills Cemetery: Lake Hibiscus with White Tree
Forest Hills is a 250-acre picturesque landscape minutes from downtown Boston – a lush green space and open-air museum. For too long, it has been forgotten and ignored. Now, with its nomination to the National Register, Forest Hills regains its rightful place amongst Boston's treasures.