Samuel G. Reed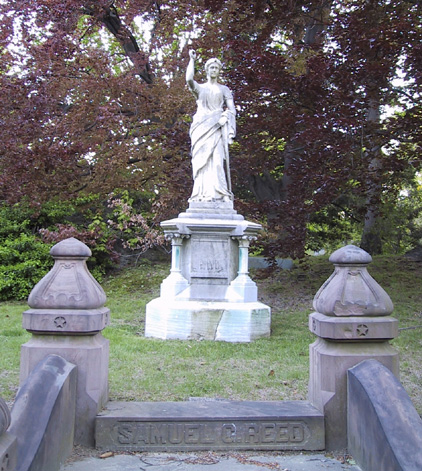 Samuel G. Reed
Here we encounter again the figure of Hope, who we met earlier in the walk at the lot of Nathaniel Tucker. This Hope also has an anchor, but has one arm held aloft, and wears a headband with a star at her forehead. The star motif is repeated in the brownstone curbing and post that surround the lot. The lower part of the monument is an image of a clipper ship.
Why the clipper ship? Reed is listed in Boston city directories during the 1840s, 1850s and 1860s as a wine merchant. He and his partner Reuben Wade owned and operated Reed, Wade & Co. during these decades on North Market Street in Boston. A good guess would be that the clipper ship represented the expeditious fashion in which Reed, Wade & Co. imported their wines from foreign or exotic ports. And that is part of the story, but not all. In nineteenth century America Samuel G. Reed was also known for owning the largest fleet of clipper ships in the country. Clippers were known as the "greyhounds of the sea." These sleek ships represented the most sophisticated, rapid form of sea transportation available. Reed, Wade & Company at their height owned about 20 clipper ships, many of these built and launched during the 1850s. Every time the firm launched a new ship, lengthy descriptions of the newest, beautiful Reed clipper appeared in local papers. The company commissioned the building of some ships and purchased others; although not much information seems to survive about Reed as a wine merchant, he and Reuben Wade were clearly successful in a "stellar" way. The clippers brought goods from all over the world; Reed and Wade undoubtedly had one of the best-stocked shops in the city of Boston!
The recurring star motif at the Reed lot is significant. The star on Hope's forehead can refer to Heaven, to celestial bodies, and even to sea navigation. The star motif had an even closer personal connection to Reed, though. At least four of his clippers carried the word "star" in their names: the Shooting Star (1851), the Star of the Union (1852), the Silver Star (1856), and the Shooting Star II (1859), the last clipper ship known to have been built for the firm. Stars were for Reed an important (and maybe a lucky) symbol of his successful and prosperous life, so it is not surprising that they surround him in death.
Proceed to the last stop on the tour, our famed Milmore Monument.